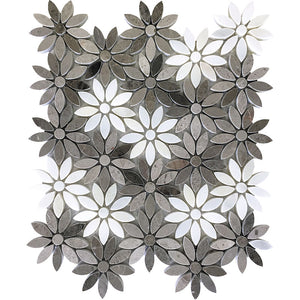 ---
SAVANNAH PANSY Eastern Brown / Eastern White Mosaic Tile
2 reasons to buy from us :
Fast
shipping
Secure
Ordering
SAVANNAH PANSY Eastern Brown / Eastern White Mosaic Tile

Material: Eastern Brown / Eastern White
Color: Gray

Sold by: Sheet

Sheet size: 10.7x12"
Thickness: 3/8"
Packing: 5 sheets/ctn
Sq.ft/box: 4.46
Sheet Coverage (sq.ft): 0.89
Weight/sheet or sq.ft (tiles): 4.4
Specifications:
Variation in color, shade, finish, hardness, strength and slip resistance is inherent in Natural stone products. White marbles contain naturally occurring deposits of iron which may lead to discoloration of marble and turning it yellow-rust or grey if used in wet areas. This a natural characteristics of the stone and that is why it cannot be considered as a defect in the product. MosaicBROS is in no way responsible for discoloration of the natural stones.

PLEASE, ALLOW 2-4 DAYS FOR SHIPMENT

If an item that you wish to order a sample has more than one finish option, please leave us a note at check out page what finish you would like to receive. We usually ship 4x4 or 6x6 swatches for mosaic sample orders and 2-3 pcs of 3x6 or 4x4 for subway tiles and field tile orders. No Return on Sample Orders !
Tile Calculator
I know the sq. ft. area I want to tile. Calculate the number of tiles I need to order:

I know the size of the area I want to tile. Calculate the number of tiles I need to order:
You need units. We recommend that you order units (10% extra) to cover cuts and future repairs.
---