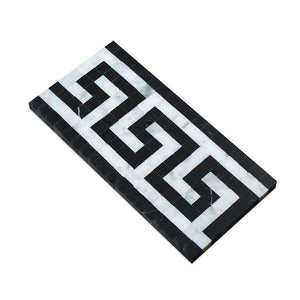 ---
Bianco Carrara Honed Marble Greek Key Border (Carrara w/ Black)
2 reasons to buy from us :
Fast
shipping
Secure
Ordering
Bianco Carrara Honed Marble Greek Key Border (Carrara w/ Black).
Looking for a luxurious and high-end tile to add to your home? Then look no further than our White Carrara Marble Tile. This gorgeous tile features a white background with beautiful grey veins running throughout. It's perfect for indoor or outdoor use and would make a stunning addition to your living room, kitchen, or any other area of your home. Plus, it comes in both a polished and honed finish, so you can choose the look that best suits your space. And if you really want to make a statement, we also offer mosaic tiles, field tiles, moldings, trims, borders, and corners in this stunning design. So no matter how you want to use it, our White Carrara Marble Tile is sure to add a touch of luxury and elegance to your home.
If an item that you wish to order a sample has more than one finish option, please leave us a note at check out page what finish you would like to receive. We usually ship 4x4 or 6x6 swatches for mosaic sample orders and 2-3 pcs of 3x6 or 4x4 for subway tiles and field tile orders. No Return on Sample Orders !
Stunning Marble Greek Key Border ties the past to the present
This tile Greek border is set to be the stunning foundation of a black and white kitchen and pantry blending restored antique pieces and ultra modern appliances. The quality of the marble and the mosaic design are exceptional. Two different professional tilers were amazed at the tile and the design.
Final report to come upon completion of the restoration project.
Also.. a word about Mosaic Brothers. They are excellent to deal with in every respect. I have and will continue to pass them along for a wonderful source of exceptional quality product and services. Their responsiveness and customer service and satisfaction is as no other vendor that I have had the opportunity to deal with.
Thank you Al and all at Mosaic Brothers
Tile Calculator
I know the sq. ft. area I want to tile. Calculate the number of tiles I need to order:

I know the size of the area I want to tile. Calculate the number of tiles I need to order:
You need units. We recommend that you order units (10% extra) to cover cuts and future repairs.
---