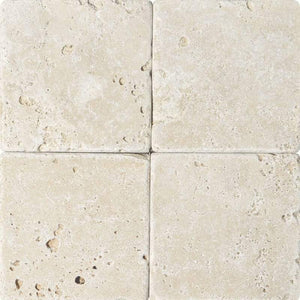 ---
4 x 4 Tumbled Ivory Travertine Mosaic Tile
2 reasons to buy from us :
Fast
shipping
Secure
Ordering
Ivory Travertine 4x4 Tumbled Tile
This exquisite natural stone is available in a wide variety of colors and designs. Featuring a unique blend of colors, the Ivory Travertine is perfect for a wide range of applications, including indoor and outdoor use. The living room area is a great place to use this natural stone, as it will add a touch of elegance to any space. The kitchen is another popular place to use this stone, as it can help create a warm and inviting space. The pool area is also a great place to use this natural stone, as it can help create a luxurious and relaxing space. The field tile, liners, ledgers mosaic tile is also a great option for those looking to add a touch of luxury to their home.
MATERIAL DESCRIPTION:
Product:

 

Tile
Material Type:

 

Travertine
Size: 4"x4"
Surface Type:

 

Unfilled
Edge Finish:

 

Tumbled
Thickness: 3/8"
Color:

 

Cream
Coverage:

 

1 pc =0.11 sq.ft.
Minimum Purchase: 50 sq. ft. or closest round-up number depending on the full box count or full tile piece count
Item Location:

 

California
Design:

 

Traditional
Warranty*:

 

N/A
Usage:

 

Commercial or Residential
TERMS AND CONDITIONS
All types of Natural Stone, Tile, and Glass are a product of nature and is therefore subject to natural variation of color, shading, veins, markings, and texture from piece to piece.
Please do not rely on these images before your order. Pictures do not necessarily depict accurate shading and variation of the whole lot.
 We recommend you to order a sample before your purchase and contact us for the current lot pictures of the product.
Samples are Non-Returnable.
ABSOLUTELY NO CLAIMS WILL BE ACCEPTED FOR ANY REASON AFTER MATERIAL IS INSTALLED.
ABSOLUTELY NO PARTIAL RETURNS.
Estimated Lead Time: 2-3 business days plus shipping.
If you wish to order larger quantities or different amount than what is offered here, please contact us sales@mosaicbros.com 
If an item that you wish to order a sample has more than one finish option, please leave us a note at check out page what finish you would like to receive. We usually ship 4x4 or 6x6 swatches for mosaic sample orders and 2-3 pcs of 3x6 or 4x4 for subway tiles and field tile orders. No Return on Sample Orders !
Tile Calculator
I know the sq. ft. area I want to tile. Calculate the number of tiles I need to order:

I know the size of the area I want to tile. Calculate the number of tiles I need to order:
You need units. We recommend that you order units (10% extra) to cover cuts and future repairs.
---